The most space. The most speed. The most precision. The B 880 PLUS boasts many cutting-edge features developed by a team of experts in Switzerland. The B 880 Plus is state-of-the art technology combined with Swiss craftsmanship. The unprecedented functions and innovative features are designed with the sewist, quilter and embroiderer in mind. For example, the B 880 PLUS has a programmable foot control that provides the option to knot and cut the threads and as well as raise the presser foot in one operation tailored to each individual.
BERNINA 880E Plus Exciting New Embroidery Features:
Pinpoint Placement
Enhanced Editing
Total Embroidery Stitch Control
Bonus Embroidery Designs & Alphabets
BERNINA 880E Plus Standard Features:
Huge space for sewing
Create your own stitch patterns
Quiet, fast & precise
Sew & embroider longer
The top model with the most features for highest comfort
Stitch Designer
Shape Designer
Color Wheel
Distortion
Extended Freearm
Overview
BERNINA 880 – Enter the world of endless creativity
Fully automatic features
Imagine a machine that automatically responds to your needs. The presser foot automatically lowers at the start of a seam and lifts again at the end. The B 880 will even cut the thread for you at the end of a seam or color change in embroidery. The feed dog raises and lowers automatically for free-motion stitching and embroidery. And of course, fully automatic threading is yours at the touch of a button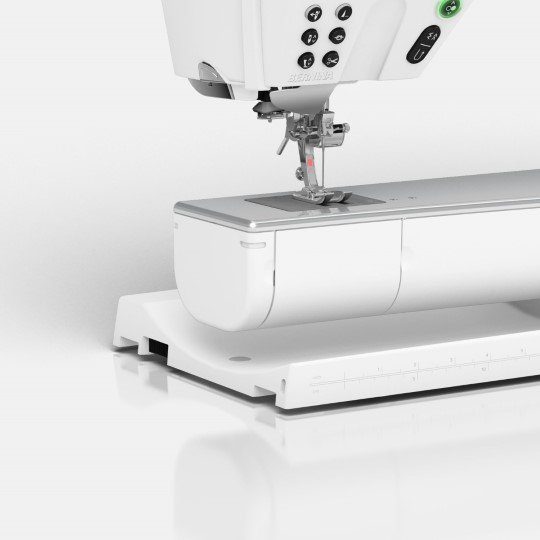 Extended Freearm
The B 880 includes a meticulously engineered extended freearm area with a full 12 inches of space to the right of the needle and five inches in height. With this extralarge area, you'll have the added benefit of a jumbo embroidery field, an extended space to expand your creativity.
Extensive stitch and design library
The BERNINA 880 includes a library of over 1,764 stitches, conveniently stored by category for a wide variety of applications. You'll find the perfect stitch for every sewing project. Over 400 high-quality embroidery designs, including motifs by well-known designers, and 12 font styles are perfect for personalizing your projects.
Modern color touchscreen
The seven-inch touchscreen on the BERNINA 880 offers high-resolution images and brilliant colors. Cutting-edge touchscreen technology lets you choose from a wealth of innovative functions. The BERNINA 880 offers drag and drop, vertical scrolling and the swipe function for deleting motifs easily. It also features a highly intuitive onscreen operating concept providing numerous personalized settings.
The new Stitch Designer
The BERNINA 880 offers hundreds of stitches that are clearly categorized and easily retrieved. With the innovative Stitch Designer you can edit these or create your own stitches. Simply draw your ideas directly on the screen. The BERNINA 880 converts the design with a click into a stitch pattern. You can also change and save existing stitches. The possibilities are endless and your stitch library is continually expanding.
The new Shape Designer
The Embroidery Shaping function of the BERNINA 880 offers the option of duplicating embroidery designs with one click and then arranging them in a desired formation. Whether in a circle, square or heart, new and unconventional designs emerge.
The new Color Wheel
With 400 built-in designs and alphabets, embroidery is just a click away. Also, your own motifs can be quickly loaded onto the machine via two USB ports. With the the Color Wheel, designs can be changed easily and coordinated to your favorite color scheme before you start embroidering. This makes it easy to choose the most beautiful colors for your embroidery project.
Distortion
The distortion function of the BERNINA 880 enables the customer to distort the stitch patterns in 0.01 mm steps to the right or to the left as well as forward or backward. You can also combine distorted stitch patterns.
Endless embroidery options
Mirror image, rotate, combine and resize designs right on the color touch screen. Built-in basting boxes hold difficult to hoop items in place for embroidery. Create arched lettering effects, adjust design density and even bring decorative stitches into embroidery. Automatically color sort complex combinations, preview alternate color options on screen with the help of the Color Wheel, and save to your machine or a USB stick. Wish to stitch out border designs? The Endless Embroidery function will walk you right through the process. Finally, you'll love Absolute Check for perfect design placement.
Accessories Included
BERNINA Stitch Regulator (BSR)
The BERNINA Stitch Regulator (BSR) adapts precisely to your current sewing speed to produce absolutely consistent stitching.
Small embroidery hoop
The Small embroidery hoop (for normal use / free-arm embroidery) is a whiz at embroidering tubular items such as sleeves or pant legs.
Medium hoop – for medium-sized designs
The Medium hoop is a useful tool for the accurate embroidering of medium-sized projects with the BERNINA embroidery machine.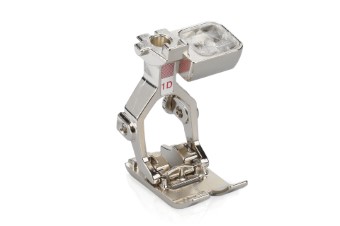 Reverse pattern foot # 1D
Reverse pattern foot # 1D is the ideal presser foot for sewing forward and reverse-feed utility and decorative stitches.
Large oval hoop
The Large oval hoop is suitable for both design combinations and extensive embroidery designs. The template makes quick work of accurately positioning the project in the hoop.
BERNINA bobbin for the 8 Series
With its larger than normal thread capacity, it is possible to sew continuously for longer with the BERNINA bobbin for the 8 Series.
Overlock foot # 2A
Overlock foot # 2A lets you neaten seams easily and sew high-quality hems, waistbands and overlock seams on knit fabrics.
Buttonhole foot # 3C
Buttonhole foot # 3C is the natural choice for easy sewing of buttonholes with and without cording, and is also ideal for gathering with cord.
Buttonhole foot with slide # 3A
Depending on the model, Buttonhole foot with slide # 3A determines the desired buttonhole length for identical buttonholes either via a sensor or manually.
Zipper foot # 4D
Thanks to its narrow, centrally positioned toe, Zipper foot # 4D can stitch very close to the zipper coils, allowing it to sew the zipper on neatly.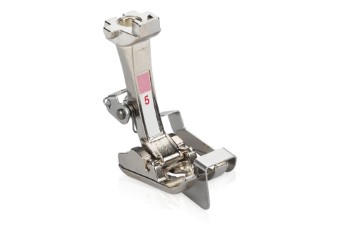 Blindstitch foot # 5
Blindstitch foot # 5 is suitable for sewing blind hems on all fabrics. When this foot is used, you can hardly see the stitching from the front.
Free-arm slide-on table for more sewing space
The BERNINA Free-arm slide-on table offers greater comfort thanks to an increased sewing area, without affecting free-arm function when sewing.
Button-sew-on foot # 18
Button-sew-on foot # 18 is the perfect tool for easy sewing of buttons, snap fasteners, eyelets and decorations.
Free-Hand System (FHS) / Presser foot lifter
The Free-Hand System (FHS) / Presser foot lifter lets you raise the presser foot and lower the feed dog with your knee. Recommended particularly when working with delicate fabrics.
Open embroidery foot # 20D
Open embroidery foot # 20 / 20C / 20D is ideal for embroidering with your sewing machine. The indentation in the sole of the presser foot allows it to glide smoothly over dense stitches.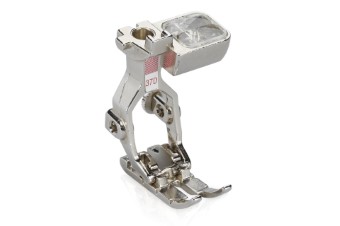 Patchwork foot # 37D
Patchwork foot # 37D features special markings and a straight stitch opening and is ideal for patchwork and precision sewing.
Sideways motion foot # 40C
Sideways motion foot # 40C enables multi-directional sewing, and allows you to sew out large sideways motion stitch patterns.